When Don Shapiro speaks, people learn, laugh and leave inspired

Customized speeches, seminars and training on sales, service, leadership, strategy and choices that share Don Shapiro's original discoveries and experiences in a high energy, interactive and fun way.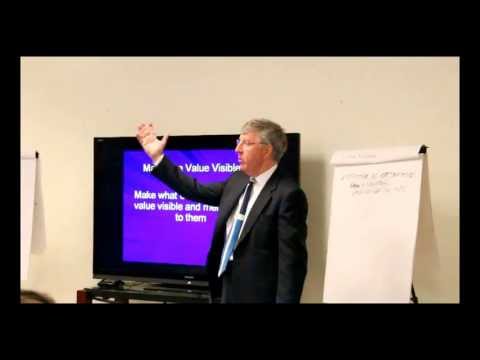 Make The Value Visible: The Lawry's Gong Story
How did Lawry's The Prime Rib turn an ordinary cup of coffee into word of mouth magic. The lessons from this story have been applied to all types of B2B and consumer organizations.
Don Shapiro gave his first speech before an audience of 800 when he was 14 and they haven't been able to stop him since. He has spoken before thousands of groups including businesses, associations and community organizations.  Don customizes each program he gives by interviewing people who will be in the audience so he can relate his discoveries to their customers, organization and challenges. He lives in the Southwest so if you are planning a meeting in Las Vegas, Palm Springs, Los Angeles, Orange County,  San Diego or Phoenix and want an insightful, inspiring and humorous talk… go with a local!
A Safari Inside The Mind Of The Customer

Don Shapiro weaves his discoveries about how customers think, feel and act into every program he gives.  He takes audiences deep inside their prospects and customers mind to identify powerful concepts for improving sales, service, strategy and profits.
Find The Stealth Value To Close More Sales

Closing the sale is about raising the customer's perceptions of value as high as possible. That's what 27 years of First Concept's research concluded. When salespeople learn how customers figure out their perceptions of value and what causes that value to rise and fall, they become aware of more that is going on inside the mind of the customer and more they can do to influence their decision.
No matter how experienced your salespeople are or how many of them are meeting and beating quotas or how much training they've been through, most of them could close more sales based on our research. Don's been motivating salespeople to close more sales for over three decades by sharing new information about why people buy…and why they don't. Give your salespeople something new that can actually boost your closing and win rates with a speech, seminar or training program enthusiastically delivered by Don.
Read more about how these discoveries help your salespeople close more sales
AUDIENCE: sales, sales management, marketing, executives
The Laws of Customer Satisfaction: The Why Behind Great Service

Don Shapiro started his career working for one of the earliest pioneers in customer service and satisfaction.  Over 25 years in the making, these Laws describe the way customers actually feel about what happens to them. They identify the subtle, obvious, often overlooked issues organizations must address to satisfy a customer.  The laws explain why things need to be done a certain way to satisfy customers. These Laws can be used as a foundation to create a customer driven culture. Audiences remember these easy to understand concepts because they see themselves in each Law. And when they remember the laws, it gives them a foundation concept to influence their performance and the decisions management makes.
AUDIENCE: sales, service, management
LEADERSHIP
Walk The Talk: The Character-Based Leader In Action
In today's turbulent, chaotic, changing times, organizations need people who can stand up and make the tough decisions. It's not enough just be good at leading people anymore. Leadership involves more than people skills. Leadership is about who we are inside, not our title or authority. That  starts with character.  This program shares what Don has learned about effective leadership, why character and leadership are married to each other and the building blocks of a Character-Based Leader. It offers practical ideas to help leaders lead better and make better choices about where they are leading their team.
Don Shapiro is one of 21 authors and an editor of the new book by the Lead Change Group "The Character-Based Leader: Instigating A Leadership Revolution…One Person At A Time."
AUDIENCE: supervisors, managers, executives
Learn more about Character-Based Leaders
TOP MANAGEMENT PROGRAMS
Strategy Follows Structure; Structure Supports Strategy
Form follows function. Throughout the world, everything performs a function that matches the way it's built. Try to get something to do a task it wasn't designed for and you end up with nothing accomplished. The same goes for organizations. Strategy and structure are married to each other. There is no such thing as a good or bad structure. What is the purpose of the organization? What is its strategy, direction, goals? What markets or constituents does it serve? What does it offer them? A structure must support the answers to these questions. Change the answers and you must change the structure. If you don't, the organization will revert back to a strategy the structure can support on its own. Either that or die. Don Shapiro explores the all too common reasons why organizations fail to realize any lasting improvements when they implement new strategies, programs, or structures and what to do about it.
Learn more about Strategy And Structure
Find More Customer Value for the Competitive Edge
Here is the ultimate program about Customer Value and how to use it to increase sales, profits, customer loyalty, and return on investment. Only the customer can define value. Sometimes a focus on great service or top quality misses the point. These strategies only make sense when based on understanding what customers highly value. A customer driven organization is one that uses Customer Value to guide all its decisions and actions. Executives and business owners learn how customers figure out perceived value, how customers use value to decide what they buy, what price they pay, and how Customer Value changes the purpose of an organization. The program shows how to apply Customer Value to define mission, products and services offered, marketing strategy, organization structure, sales methods, and customer relationships.
Learn more about Customer Value
Tap Into The Rhythm Of Change
Executives, consultants and academics have all sought that illusive answer to how you actually implement a real, major sustainable change. There comes a point in every organization's life where minor adjustments, a tweak here or there, introducing a new program or initiative just isn't enough. Yet, when organizations undertake a major change to their operation, structure, strategy and culture, more fall short of the mark then make the grade. Don Shapiro has firsthand experience creating and implementing major change initiatives in organizations as well as studying the process of change since the 1970's. Any organization that wants to successfully make a major change will learn some priceless lessons about what to do and what to avoid.
GENERAL AUDIENCE PROGRAMS
Life Is A Fork In The Road
Every choice we make in business is a fork in a road. There are always more than one path,  more than one way to proceed. Whether big or small, each choice contributes to the overall direction and results of the firm. Add up everyone's choices and that's where you are today. Change those choices and you can change everything. This speech is the organization version of the book Don Shapiro is writing "Life Is A Fork In The Road." He has been studying how we make decisions, solve problems, generate creative ideas, analyze issues and more for over 40 years. After combining his observations of thousands of managers, executives and business owners in action and combining that with his latest research, Don now shares some powerful ways everyone can make better decisions.
AUDIENCE: all employees, supervisors, managers, executives, community groups, general audiences
Learn more about the Life Is A Fork In The Road book project
Visit the Life Is A Fork In The Road discussion community on Facebook